Exceptional Education Experiences – Research, Internships & More
The Department of Psychology offers both a major and minor in psychology, as well as an exceptional certificate in the field of Human Factors. For students seeking a more in-depth and intensive learning experience, the department also offers an Honors track in partnership with the Honors College.
Our Bachelor's Program includes coursework in the areas of clinical psychology, cognitive neuroscience, developmental psychology, social and personality psychology, health psychology, and more. As a hub science, psychology is uniquely positioned to provide a strong platform from which students can launch successful careers into nearly any field or industry.
Our diverse and award-winning faculty are active researchers who investigate phenomena including texting while driving, sexual attraction, group identity and discrimination, behavioral epigenetics, couple interactions, combat-related posttraumatic stress disorder, and the interactions between physical and mental health.
Students in our program have an incredible number of opportunities to get involved and develop marketable skill sets while studying the science of psychology. Many of our students work as research assistants in established laboratories, or under the direction of a faculty mentor while pursuing their own research project. Our department also encourages students to gain real-world experiences while still earning academic credit through internships. In addition to research and internships, several diverse, impactful, and well respected student groups operate on campus. These groups interface with the department, university, and community on various levels. For more information, please see: Getting Involved – Research, Internships, & Groups.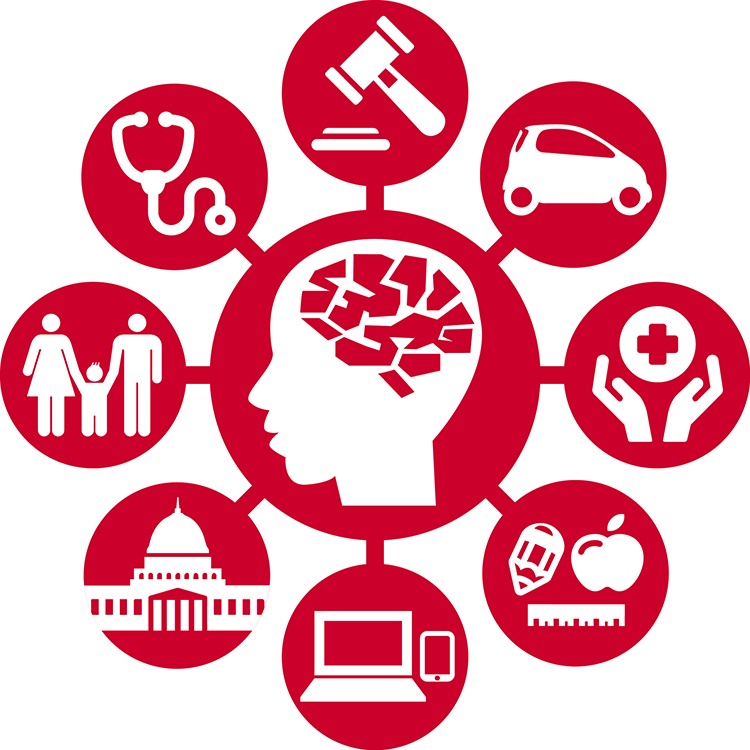 Learning Outcomes
Students should demonstrate fundamental knowledge and comprehension of the major concepts, theoretical perspectives, historical trends, and empirical findings to discuss how psychological principles apply to behavioral problems. Students completing Foundation courses should demonstrate breadth of their knowledge and application of psychological ideas to simple problems; students completing a baccalaureate degree should show depth in their knowledge and application of psychological concepts and frameworks to problems of greater complexity.
1.1 Describe key concepts, principles, and overarching themes in psychology
1.2 Develop a working knowledge of psychology's content domains
1.3 Describe applications of psychology
The skills in this domain involve the development of scientific reasoning and problem solving, including effective research methods. Students completing Foundation courses should learn basic skills and concepts in interpreting behavior, studying research, and applying research design principles to drawing conclusions about psychological phenomena; students completing a baccalaureate degree should focus on theory use as well as designing and executing research plans.
2.1 Use scientific reasoning to interpret psychological phenomena
2.2 Demonstrate psychology information literacy
2.3 Engage in innovative and integrative thinking and problem solving
2.4 Interpret, design, and conduct basic psychological research
2.5 Incorporate sociocultural factors in scientific inquiry
The skills in this domain involve the development of ethically and socially responsible behaviors for professional and personal settings in a landscape that involves increasing diversity. Students completing Foundation courses should become familiar with the formal regulations that govern professional ethics in psychology and begin to embrace the values that will contribute to positive outcomes in work settings and in building a society responsive to multicultural and global concerns. Students completing a baccalaureate degree should have more direct opportunities to demonstrate adherence to professional values that will help them optimize their contributions and work effectively, even with those who don't share their heritage and traditions. This domain also promotes the adoption of personal and professional values that can strengthen community relationships and contributions.
3.1 Apply ethical standards to evaluate psychological science and practice
3.2 Build and enhance interpersonal relationships
3.3 Adopt values that build community at local, national, and global levels
Students should demonstrate competence in writing, oral, and interpersonal communication skills. Students completing Foundation courses should write a cogent scientific argument, present information using a scientific approach, engage in discussion of psychological concepts, explain the ideas of others, and express their own ideas with clarity. Students completing a baccalaureate degree should produce a research study or other psychological project, explain scientific results, and present information to a professional audience. They should also develop flexible interpersonal approaches that optimize information exchange and relationship development.
4.1 Demonstrate effective writing for different purposes
4.2 Exhibit effective presentation skills for different purposes
4.3 Interact effectively with others
The emphasis in this goal is on application of psychology-specific content and skills, effective self- reflection, project-management skills, teamwork skills, and career preparation. Foundation outcomes concentrate on the development of work habits and ethics to succeed in academic settings. The skills in this goal at the Baccalaureate level refer to abilities that sharpen student readiness for post-baccalaureate employment, graduate school, or professional school. These skills can be developed and refined both in traditional academic settings and extracurricular involvement. In addition, career professionals can be enlisted to support occupational planning and pursuit. This emerging emphasis should not be construed as obligating psychology programs to obtain employment for their graduates, but instead encourages programs to optimize the competitiveness of their graduates for securing places in the workforce.
5.1 Apply psychological content and skills to career goals
5.2 Exhibit self-efficacy and self-regulation
5.3 Refine project-management skills
5.4 Enhance teamwork capacity
5.5 Develop meaningful professional direction for life after graduation
Psychology Major
---
The Psychology Major consists of 41 credits that are fulfilled through a combination of required courses, Core Area courses, and electives.
Required foundation courses include General Psychology (PSY 1010) and Psychology as a Science & Profession (PSY 2010). Psychology as a Science & Profession provides an overview of what psychology is as a science, introduces students to on-campus resources, and explores research opportunities and psychology career options.
In their Core Area courses, students will study the areas of Developmental, Social, Clinical, Cognitive and Behavior/Neuroscience psychology in more depth.
Students are given a significant amount of flexibility to take courses that not only match their interests and goals, but work for their schedules too. With careful planning, the Psychology major is also able to be completed entirely online; a great option for busy students who can't always be on campus.
UOnline
Psychology Minor
---
The Psychology Minor consists of 16 credits fulfilled through both required courses and electives. This quick and flexible minor is a great way for students to learn and incorporate psychology principles into their overall program of study.
The minor's required courses are General Psychology (PSY 1010) and Statistical Methods in Psychology (PSY 3000). The remaining 7-8 credits will be met through the student's choice of psychology elective courses.

Human Factors Certificate
---
The Human Factors Certificate is open to all majors and complements many programs such as Psychology, Engineering, Nursing, Business, and more. The main purpose of the Human Factors field is to improve human interactions with software, equipment, and other individuals to enhance performance, increase safety, and improve user satisfaction. This certificate easily fits into a Psychology major.
To earn the Human Factors Certificate, students must maintain a cumulative 2.8 GPA, complete required courses and one elective, do research with a faculty mentor, and write a 5-page APA style thesis paper based on their research.

Honors Track
---
The Honors Track provides students the opportunity to participate more fully with the Honors College and to earn official Departmental Honors in Psychology. The track includes higher-level coursework and extensive research culminating in an honors thesis.
To enroll in the Honors Track students must first apply and be admitted into the Honors College before being accepted into this program.

Make an appointment with our Honors Psychology advisor today!

Infant Mental Health Certificate
---
Our certificate program takes 2 years to complete. Trainees will take 8 courses for a total of 24 credits. Two, year-long courses specific to certificate trainees are required. In the first year, trainees will complete a core infant and early childhood mental health course which will allow students to discuss issues related to practicum placement and didactics to fulfill the early childhood mental health credential so that students could become employed in the early intervention field upon receiving the certificate.