Human Factors
What is Human Factors?
"Human Factors is concerned with the application of what we know about people, their abilities, characteristics, and limitations to the design of equipment they use, environments in which they function, and jobs they perform."
–Human Factors and Ergonomic Society

Overview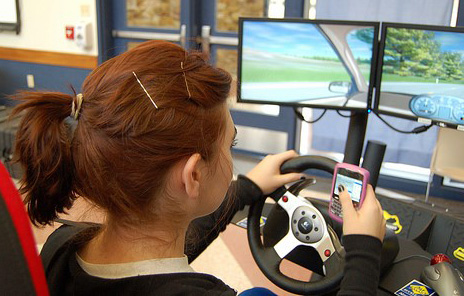 Technological advances can increase productivity and safety for individuals and society, but are not always guaranteed to do so. Technology is just one component of a complex socio-technical system, and only an integrated understanding of how humans and these systems interact will ensure advances in safety and productivity. For example, even though modern communication technology allows for instant and continuous communication, the use of this technology also increases risk associated with typical tasks like driving.
The certificate allows students to focus their studies in the field of Human Factors through a prescribed course of study and an independent research project. The certificate complements many existing fields of study and students can apply to complete the certificate with any major, including (but not limited to) psychology, engineering, computer science, pre-medicine, nursing, and design. The focus on interactions between humans and systems provided by the certificate is intended to better prepare students for future careers in both industry and academics. The greater Salt Lake City area is currently experiencing a transformation into a high-tech area, attracting many companies for which Human Factors is an important area of concern.
The advisor for the certificate program is currently Dr. Kristina Rand. Please contact her to schedule an appointment at kristina.rand@utah.edu.
Learning Outcomes
Goal 1: Broad knowledge of the science of human factors and ergonomics that provides a foundation for both career development and lifelong learning.
Goal 2: An ability to design, conduct, analyze, and interpret human factors experiments and their data for the purpose of addressing human factors and ergonomics problems.
Goal 3: Experience in designing or re-designing a system, component, or process to meet accepted human factors and ergonomics standards within realistic constraints.
Goal 4: Effective communication skills for teamwork, collaboration, and dissemination of results.
Goal 5: An understanding of global, economic, environmental, and societal contexts from which human factors and ergonomics problems, as well as their solutions, arise.
Certificate Requirements & Application
Featured Projects
Students in our department have completed a number of diverse and insightful projects as part of the Human Factors Certificate. The following are some of the projects that highlight their work.
| | | | |
| --- | --- | --- | --- |
| Name | Project Title | Semester | Paper/Poster |
| David Gerritsen | I'd Like to Introduce You to My Desktop: Toward a Theory of Social Human-Computer Interaction | Spring 2012 | |
| Cailee Markosian | Attention Allocation in Automated Vehicles | Fall, 2017 | |
| Jeremy Donaldson | Examining Effective Navigation Learning Strategies for the Visually Impaired | Fall, 2017 | |