Exceptional Education Experiences – Research, Internships & More
The Department of Psychology offers both a major and minor in psychology, as well as an exceptional certificate in the field of Human Factors. For students seeking a more in-depth and intensive learning experience, the department also offers an Honors track in partnership with the Honors College.
Our Bachelor's Program includes coursework in the areas of clinical psychology, cognitive neuroscience, developmental psychology, social and personality psychology, health psychology, and more. As a hub science, psychology is uniquely positioned to provide a strong platform from which students can launch successful careers into nearly any field or industry.
Our diverse and award-winning faculty are active researchers who investigate phenomena including texting while driving, sexual attraction, group identity and discrimination, behavioral epigenetics, couple interactions, combat-related posttraumatic stress disorder, and the interactions between physical and mental health.
Students in our program have an incredible number of opportunities to get involved and develop marketable skill sets while studying the science of psychology. Many of our students work as research assistants in established laboratories, or under the direction of a faculty mentor while pursuing their own research project. Our department also encourages students to gain real-world experiences while still earning academic credit through internships. In addition to research and internships, several diverse, impactful, and well respected student groups operate on campus. These groups interface with the department, university, and community on various levels. For more information, please see: Getting Involved – Research, Internships, & Groups.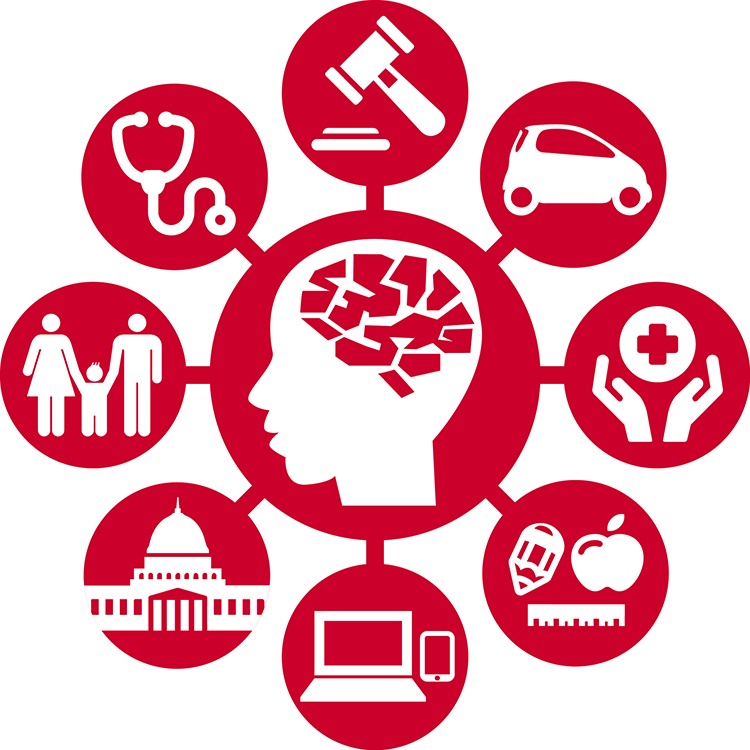 Learning Outcomes
Identify key concepts and principles in different domains of psychology.
Apply principles of psychology in a specific domain.
Demonstrate psychology information literacy.
Interpret, design, and conduct basic psychological research.
Apply ethical standards to evaluate psychological science.
Describe the limitations to foundational knowledge in psychology as it applies to diversity.
Demonstrate effective communication through scientific writing.
Apply psychological content and skills to the development of professional goals.
General Psychology Major
---
The Psychology Major consists of 41 credits that are fulfilled through a combination of required courses, Core Area courses, and electives.
Required foundation courses include General Psychology (PSY 1010) and Psychology as a Science & Profession (PSY 2010). Psychology as a Science & Profession provides an overview of what psychology is as a science, introduces students to on-campus resources, and explores research opportunities and psychology career options.
In their Core Area courses, students will study the areas of Developmental, Social, Clinical, Cognitive and Behavior/Neuroscience psychology in more depth.
Students are given a significant amount of flexibility to take courses that not only match their interests and goals, but work for their schedules too. With careful planning, the Psychology major is also able to be completed entirely online; a great option for busy students who can't always be on campus.

Honors Track
---
The Honors Track provides students the opportunity to participate more fully with the Honors College and to earn official Departmental Honors in Psychology. The track includes higher-level coursework and extensive research culminating in an honors thesis.
To be admitted to the Honors Psychology Major, students must be admitted to the Honors College and have (1) of the following posted on their University of Utah academic record:
PSY 1010/1011: General Psychology with a grade of a B or better at the University of Utah
Posted Transfer Credit: General Psychology course equivalent with a grade of a B
Posted Advanced Placement Credit: Psychology AP score of 3 or Higher
Posted International Baccalaureate Credit: Psychology Standard or Higher Level score of 5 or Higher
Psychology Minor
---
The Psychology Minor consists of 16 credits fulfilled through both required courses and electives. This quick and flexible minor is a great way for students to learn and incorporate psychology principles into their overall program of study.
The minor's required courses are General Psychology (PSY 1010) and Statistical Methods in Psychology (PSY 3000). The remaining 7-8 credits will be met through the student's choice of psychology elective courses.
Human Factors Certificate
---
The Human Factors Certificate is open to all majors and complements many programs such as Psychology, Engineering, Nursing, Business, and more. The main purpose of the Human Factors field is to improve human interactions with software, equipment, and other individuals to enhance performance, increase safety, and improve user satisfaction. This certificate easily fits into a Psychology major.
To earn the Human Factors Certificate, students must maintain a cumulative 2.8 GPA, complete required courses and one elective, do research with a faculty mentor, and write a 5-page APA style thesis paper based on their research.
Infant Mental Health Certificate
---
Our certificate program takes 2 years to complete. Trainees will take 8 courses for a total of 24 credits. Two, year-long courses specific to certificate trainees are required. In the first year, trainees will complete a core infant and early childhood mental health course which will allow students to discuss issues related to practicum placement and didactics to fulfill the early childhood mental health credential so that students could become employed in the early intervention field upon receiving the certificate.