Brennan Payne Selected for the Vice President's Clinical & Translational Scholars (VP-CAT) Program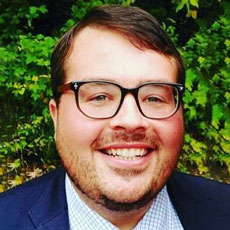 The Vice President's Clinical & Translational (VPCAT) Research Scholars are selected through a competitive application process each fall; accepted scholars participate in a two-year program designed to provide leadership competencies and develop the essential research knowledge and practical skills to be an effective clinical or translational researcher.
This year, Brennan Payne joins Liz Conradt and Katie Baucom as members of our faculty accepted to this highly competitive program. Congratulations, Brennan!
The VPCAT Program has been designed to offer intensive mentorship and support to junior faculty in the University of Utah Health Sciences committed to careers in clinical or translational research. Read more.