Paul Bernhardt received an Outstanding Mentor Award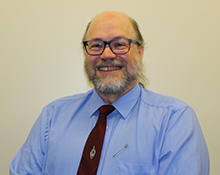 Frostburg State University's Paul Bernhardt Awarded Outstanding Mentor
Frostburg State University honored Dr. Paul Bernhardt, an associate professor of psychology, with the Outstanding Mentor Award. Bernhardt was acknowledged for his hard work and dedication to have his students understand his material and succeed in other areas as well.
"Dr. Bernhardt not only taught Psychology but he passionately prepared and provided transferable material during each class that could be applied in real-life scenarios. Dr. Bernhardt was welcoming with clear expectations and treated all of his students with respect," wrote Melanie Rowe-Partridge, a 2011 graduate.
"It was always apparent that he wanted his students to understand his material, not just show up for class and teach for a survey with a positive outcome at the end of the semester," Rowe-Partridge said.
"As an advisor, Dr. Bernhardt was inviting and invested in our success. He always took the time to talk through a theory and walk a student step-by-step through an equation. After taking several of Dr. Bernhardt's classes, I can say that I truly appreciated his commitment to teaching, focus on material and overall enthusiasm in his role as a professor and advisor," she wrote.
Bernhardt has a bachelor's degree from the Georgia Institute of Technology and received his master's and doctorate from the University of Utah. His areas of teaching interest include research methods, social psychology and industrial/organizational psychology.
The Outstanding Mentor Award is presented by the FSU Career and Professional Development Center. For more information, call 301-687-4403.