Lisa Aspinwall receives Altman Award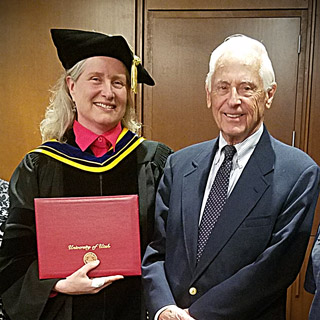 The 2017 winner of the Irwin Altman Outstanding Psychology Faculty Award is Dr. Lisa Aspinwall. This award recognizes faculty members who exemplify the combined values of teaching/mentoring, research/scholarship and service that Irwin Altman demonstrated throughout his career. Dr. Aspinwall is an internationally-recognized expert in self-regulation and risk perception, and has conducted groundbreaking work in genetic testing for familial melanoma, shaping our understanding of how people appraise health risks and adjust their behavior to take preventative measures.
Congratulations to Dr. Aspinwall!
Video of the award ceremony is available through MediaSpace.