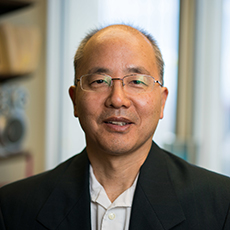 The spring marks the end of another successful, albeit challenging year for our department as COVID-19 redefined life for everyone. The department navigated a number of challenges, including a need to switch all of our in-person courses online in a short time. Thanks to the hard work of faculty, staff, and graduate students, we were able to do so and finish up the semester well. More generally, despite all the challenges, I have been very impressed by the thoughtfulness and problem-solving of our collective whole during these uncertain times.
One unfortunate result of the COVID-19 pandemic was the need to delay graduation ceremonies. Convocation is the highlight of our year and marks the celebration of many years of hard work and support by loved ones. Based on student feedback, it was decided to postpone convocation ceremonies until December. This year, 4 of our students received their master's degrees (Kimberly Johnson, Robyn Kilshaw, Amy McDonnell, Ana Vasquez) while 7 of our students received their doctoral degrees (Drs., Alex Crenshaw, Danielle Geerling, Jasara Hogan, Ascher Munion, Erika Roberge, Ruben Tinajero, and Lauren Williams). Thankfully, our graduates are off to a good start in their professional lives as many have secured academic jobs, teaching positions, and competitive postdoctoral positions. Many of our graduate students continued to engage in significant service in the community (e.g., graduate school preparation program for underrepresented students, outreach to rural high school students). We are very proud of the graduating class and hope to celebrate their accomplishments appropriately in December.
I also wanted to acknowledge a number of important awards, including the Clayton Award for Excellence in Research (Kimberly Johnson, Jasmine Norman), Clayton Award for Excellence in Research on Underrepresented Populations (Danielle Drummond, Yeseul Nam), Kevin Hawley Memorial Award (Robyn Kilshaw), B. Jack White Award (Jasmine Norman), Nancy Patterson Klekas Outstanding Service Award (Danielle Geerling), and Frederick T. Rhodewalt Award for Innovative Scholarship (Jack Silcox). I wanted to sincerely thank all the families that have made these awards possible and for their support of these outstanding scholars.
Our faculty again had a successful year for awards. Faculty award winners included Sheila Crowell (University of Utah Distinguished Mentoring Award) and Kristina Rand (CSBS Superior Teaching Award). Trafton Drew was also awarded the Irwin Altman Outstanding Psychology Faculty Award. Trafton is truly a complete scholar in the mode of Irv who excels across all dimensions of scholarship.
The department is sadly saying goodbye to Craig and AnnaBelle Bryan who will be leaving to take other positions. Craig and AnnaBelle were doing important work with veterans and first responders and will be sorely missed for their many contributions to the department, university, and community. We wish both of them the best as they pursue the next chapters in what I'm sure will be the continuation of incredible careers.
Finally, this second year as Chair was supposed to be a time to proceed with important initiatives. The COVID-19 situation made this difficult but I continue to work towards improving critical aspects of our academic mission. Special recognition should go out to our incredible staff who have again been instrumental in helping me as Chair and keeping us going during these difficult times. Although challenges still lie ahead, I am optimistic about our collective ability to handle future issues. Thank you so much for your support and for staying connected to our department. I wish you and your family and friends a safe and healthy summer.