University of Utah Reaches 100% Match Rate for Clinical Internships
Congratulations are in order for all of our Clinical Psychology graduate students seeking internships this year. University of Utah's students received 100% internship matches, and all received their first choice. In addition, the APPIC national statistics were released showing a match rate of 87% for the first phase of the match (83.2% for APA-accredited Clinical PhD programs) and 52% of applicants matched with their first choice site. The University of Utah's Clinical Program match rates were 100% for students matched to internships and 100% for students receiving their 1st choice site.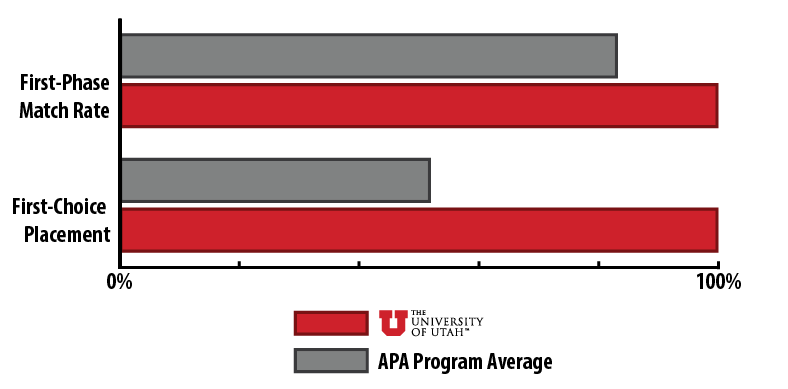 Congratulations to all our Clinical Graduate Students!
Carolynne Elizabeth Baron

VA Salt Lake City Health Care system

General Internship

Loran Patrick Hayes

University of Utah Neuropsychiatric Institute

Psychology Internship

Erin Anne Kaufman

Western Psychiatric Institute & Clinic, University of Pittsburgh, Pittsburgh, PA

Psychology Internship

Nicholas Perry

Alpert Medical School of Brown University, Providence, RI

Health Psychology / Behavioral Medicine

Andrea Wolfe-Clark

Wilford Hall Ambulatory Surgery Center, Lackland Air Force Base

Psychology Internship